Forest and Beach
Seigen Ono
---
Super Audio CD(SACD) multi-channel surround(5.0) layer
DISC1 [The Forest] :
Forest (SD-1003H): Dijon(France)
DISC 2 [The beach] :
Beach (SD-1004H): Nice (France), Sanremo (Italy), and Rio de Janeiro (Brazil). The entire multi-track reconstructed and registered with JASRAC under Seigen Ono as author's name. Please contact us if you are interested in using it under license. If your monitor speakers are set up for ITU 5.0ch, you will experience a three-dimensional sound that extends above your head! Find your favorite bird in the forest of the birds. Focus it and look behind this bird, how many more birds singing behind. it will be interesting magical experience.

DISC1 [The Forest] :


01. Vida Boa




02. Bar del Mattatoio




03. Covenant of the Rainbow




04. I Do Love You a Little




05. Suzuki-Sensei-Sansei




06. Gol de Placa (Copa 94) (Words written by Matinas Suzuki Jr.)




07. I Am a Good Fish




08. Nick & Kiriko




09. Reached Moon Tower




10. Fernando de Noronha




11. Monica Tornera Domenica Sera




12. I've never been to Genova




13. It's So Far to Go



DISC 2 [The beach] :


01. Bar del Mattatoio




02. Something to Hold On To
(Written by Seigen Ono and Arto Lindsay)
03. I Do Love You a Little
04. Malu
05. Vida Boa
06. Nick & Kiriko
07. Enishie
08. It's Denise
09. I Am a Good Fish
10. The Green Chinese Table
11. Julia
(Written by Seigen Ono and Jill Jaffe)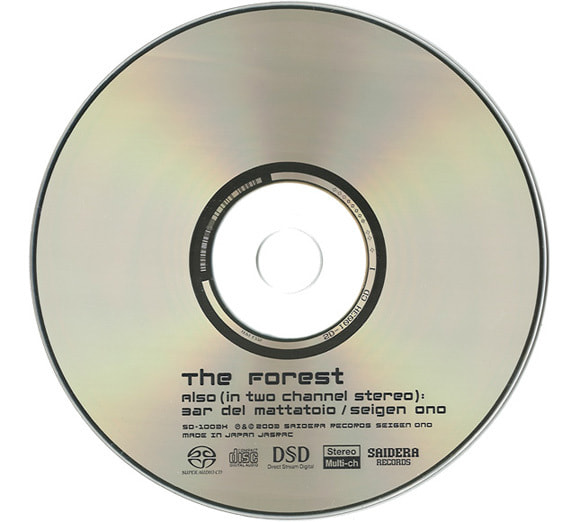 All compositions written and produced by Seigen Ono
Art direction and design by Tsuguya Inoue for Beans
Photography by Ryota Atarashi
Location Recorded on Genex GX-8500 DSD, mixed onto Sonoma by Seigen Ono and Tetsuo Kojima (Sony)
Mixed, Edited and Mastered at Saidera Mastering

【DISC 1】
SACD stereo (SD-1003H) July 2003 Re-Edited by Seigen Ono at Saidera Mastering, August 2003 Originally recorded in New York, Tokyo, São Paulo, Rio de Janeiro, Paris and Milan, 1988〜1994
CD layer
Conventional CD layer (SD-1003H) Mastered by Greg Calbi at Masterdisk, New York, September 1994

【DISC 2】
CD layer
Conventional CD layer (SD-1004H) Mastered by Ted Jansen at Sterling Sound, New York, September 1994
Recorded live at the 27th and the 28th Montreux Jazz Festival
Mixed by Seigen Ono at Hitokuchizaka Studios, Tokyo, August and September 1994

CREDITS:
DISC1
01. Vida Boa
Recorded at Sound on Sound, NYC, September 1989, and Barra de Copacabana, Rio de Janeiro, January, 1990
Re-mixed at BATTERY STUDIOS, NYC, February, 1990
Alfredo Pedernera: Bandoneon, Roy Nathanson: Soprano sax, Romero Lubamba: Guitar, Cyro Baptista: Percussion, Jill Jaffe: Viola, Arto Lindsay: Guitar, Marc Ribot: Guitar, Seigen Ono: Piano, Denise Piccinini: ta ta ta ta ta bom! bom! vida boa !!!

02. Bar del Mattatoio
Recorded at TRANS AMERICA, São Paulo, December 1992, Cello recorded at Sorcerer studio, NYC, December 1993
Mixed at ONKIO HAUS, Tokyo, April 1994
Toninho Ferragucci: Accordion, João Parahyba: Timba, Mane Silveira: Alto sax, Roberto Sion: Soprano sax, Maxine Neuman: Cello

03. Covenant of the Rainbow
Recorded at Sound on Sound, NYC, September 1989.
Mixed at BATTERY STUDIOS, NYC, February, 1990
Alfredo Pedernera: Bandoneon, Roy Nathanson: Soprano sax, Marc Ribot: Guitar, Jill Jaffe: Viola

04. I Do Love You a Little
Recorded by Tom Lazarus at MASTER SOUND ASTRIA, NY, March 1989
Re-Mixed at ONKIO HAUS, Tokyo, December 1991
John Zorn: Alto sax, Bob Stewart: Tuba, Marc Ribot: Guitar, Bobby Previte: Brush and Percussion, Jill Jaffe: Viola and Violin, Maxine Neuman: Cello

05. Suzuki-Sensei-Sansei
Recorded at STUDIO FERBER
Mixed at Studio Harryson, Paris, October 1989
Seigen Ono: Guitars and Piano, Alain "Loy" Ehrlich: Marimba, Bass and Tambourine, Tatiana: Vocal, Vali: Vocal

06. Gol de Placa (Copa 94)
(Words written by Matinas Suzuki Jr.)
Recorded at IMPRESSÃO DIGITAL, Rio de Janeiro, November 1993
Accordion recorded at BE BOP, São Paulo, November 1993
Guitar recorded at ONKIO HAUS, Tokyo, April 1994
Mixed at ONKIO HAUS, Tokyo, April 1994
Jurim Moreira: Drums, Jamil Joanes: Bass, Jota Moraes: Keyboards, Cláudio Jorge: Guitar, Gordinho: Surudo, Pirulito: Percussion, Ovidio: Percussion, Newton Da Silva: Trumpet, Francisco Oliveira: Trumpet, Roberto Marques: Trombone, Seigen Ono: Guitars, Toninho Ferragucci: Accordion, Marcio Lott, Chico Pupo and Ronald: Chorus, Kika and Aline: Vocals

07. I Am a Good Fish
Recorded at IMPRESSÃO DIGITAL, Rio de Janeiro, May 1994, and SORCORER SOUND, NYC, June, 1994
Mixed at ONKIO HAUS, Tokyo, June, 1994
Téo Lima: Drums, Sizão Machado: Bass, Jota Moraes: Keyboards, Jonathan Drew Zingg: Guiter, Jill Jaffe: Viola, Mauro Senise: Alto sax, Cláudio Jorge: Guiter, Ovidio: Pandeiro, Pirulito: Congas, Shaker, Gordinho Cowbell, Newton da Silva and Francisco Oliveira: Trumpets, Daniel Rosa: Tenor sax, Roberto Marques: Trombone, Aline: Vocals, Seigen Ono: Guitar, 12 strings guitar and Keyboards, Horn arrangment by Jota Moraes

08. Nick & Kiriko
Recorded at Sound on Sound, NYC. September 1989
Vocal track recorded and mixed at Saidera studio1, Tokyo, October 1989
Re-mixed at BATTERY STUDIOS, NYC. February, 1990
Re-edited at ONKIO HAUS, Tokyo, April 1994
Alfredo Pedernera: Bandoneon, Roy Nathanson: Soprano sax, Romero Lubamba: Guitar, Marc Ribot: Guitar, Arto Lindsay: Guitar, Cyro Baptista: Percussion, Jill Jaffe: Viola, Evelyne Bennu: Vocals

09. Reached Moon Tower
Recorded by Yasuo Morimoto at Onkio Haus, Tokyo, December 1988
Re-mixed at QUAD, NYC, October, 1989
John Zorn: Alto sax, Hirotaka Izumi: Piano, Seigen Ono: Guitars and Balaphone

10. Fernando de Noronha
Recorded at TRANS AMERICA, São Paulo, December 1992
Mixed at ONKIO HAUS, Tokyo, April 1994
Roberto Sion: Soprano sax, João Parahyba: Timba, Norma H. Rodrigues: Harp. Horácio Schaeffer: Viola, Betina Stegman: Violin Sérgio: Cello

11. Monica Tornera Domenica Sera
Recorded and Mixed by Tom Lazarus at MASTER SOUND ASTRIA, NY, March 1989
Seigen Ono: Charango, Balaphane, Alfredo Pedernera: Bandoneon, Carol Emanuel: Harp, John beal: Contra bass, Less Scott: Flute and Piccolo, Jill Jaffe: Viola and Violin, Maxine Neuman: Cello

12. I've never been to Genova
Recorded and mixed at GREEN studio, Milan, September 1988 Seigen Ono: Charango, Percussion, S-900 and D-50

13. It's So Far to Go
Recorded and mixed at GREEN studio, Milan, September 1988 Seigen Ono: Charango, Percussion, S-900 and D-50

DISC2
Tracks 1, 3, 5, 7, 8 and 10 Recorded July 17, 1993 at Miles Davis Hall (New Q's) by Anders Muhr
Conductor, guitar: Seigen Ono Alto sax: Mane Silveira Soprano sax, flute: Paul Shapiro Trombone: Yohichi Murata Accordion: Toninho Ferragucci Percussion: João Parahyba Drums: Bobby Previte Keyboards, bass: Peter Scherer Cello: Maxine Neuman Violin: Alexander Balanescu Violin: Claire Connors Guitar: Amadeo Pace

Tracks 2, 4, 6, 9, 11 and 1 intro Recorded July 11, 1994 at Auditorium Stravinsky by Weis Reire with Voyageur II
Conductor, guitar: Seigen Ono Alto sax: Mane Silveira Soprano sax, tenor sax: Roy Nathanson Fluegelhorn, piano: Jun Miyake Trombone: Yohichi Murata Cello: Maxine Neuman Accordion: Toninho Ferragucci Percussion: João Parahyba Drums: Douglas Bown Contra bass: Marc Marder Guitar: Hiroki Miyano Dancer, voice: Ondina de Castilho Dancer, voice: Keiko Courdy Sound engineer: Takashi Shinozaki
| | | | | | |
| --- | --- | --- | --- | --- | --- |
| NO. | | Title | Artist | Arthor 作詞/作曲 | 作品コード |
| | | DISC1 [The Forest] | | | |
| 1 | | Vida Boa | Seigen Ono | Seigen Ono | 029-0904-9 |
| 2 | | Bar del Mattatoio | Seigen Ono | Seigen Ono | 0J2-5837-1 |
| 3 | | Covenant of the Rainbow | Seigen Ono | Seigen Ono | 005-4589-9 |
| 4 | | I Do Love You a Little | Seigen Ono | Seigen Ono | 0I3-3023-2 |
| 5 | | Suzuki-Sensei-Sansei | Seigen Ono | Seigen Ono | 012-5608-4 |
| 6 | | Gol de Placa (Copa 94) | Seigen Ono | Matinas Suzuki / Seigen Ono | 029-0915-4 |
| 7 | | I Am a Good Fish | Seigen Ono | Seigen Ono | 029-0916-2 |
| 8 | | Nick & Kiriko | Seigen Ono | Seigen Ono | 029-0905-7 |
| 9 | | Reached Moon Tower | Seigen Ono | Seigen Ono | 029-0903-1 |
| 10 | | Fernando de Noronha | Seigen Ono | Seigen Ono | 029-0913-8 |
| 11 | | Monica Tornera Domenica Sera | Seigen Ono | Seigen Ono | 0M3-7035-0 |
| 12 | | Genova | Seigen Ono | Seigen Ono | 029-0914-6 |
| 13 | | It's So Far to Go | Seigen Ono | Seigen Ono | 0J2-5842-7 |
| | | | | | |
| | | DISC 2 [The beach] | | | |
| 1 | | Bar del Mattatoio | Seigen Ono | Seigen Ono | 0J2-5837-1 |
| 2 | | Something to Hold On To | Seigen Ono | Seigen Ono & ARTO LINDSAY | 0S5-7067-0 |
| 3 | | I Do Love You a Little | Seigen Ono | Seigen Ono | 0I3-3023-2 |
| 4 | | Malu | Seigen Ono | Seigen Ono | 029-0902-2 |
| 5 | | Vida Boa | Seigen Ono | Seigen Ono | 029-0904-9 |
| 6 | | Nick & Kiriko | Seigen Ono | Seigen Ono | 029-0905-7 |
| 7 | | Enishie | Seigen Ono | Seigen Ono | 082-4540-1 |
| 8 | | It's Denise | Seigen Ono | Seigen Ono | 082-4571-1 |
| 9 | | I Am a Good Fish | Seigen Ono | Seigen Ono | 029-0916-2 |
| 10 | | The Green Chinese Table | Seigen Ono | Seigen Ono | 0G1-8079-9 |
| 11 | | Julia | Seigen Ono | Seigen Ono & Jill B Jaffe | 0J0-9995-7 |